Destination Weddings: Domestic destination weddings offer beauty, value

(ARA) - Every wedding is as special as the bride who takes her vows that day, no matter if the setting is a centuries-old church, a hotel ballroom or the bride's own backyard. But if you dream of saying your "I do's" beside the gentle tide, or greeting your guests from the top of a staircase that looks like it's straight out of "Gone With the Wind," then a destination wedding might be right for you.
Destination weddings are becoming more and more popular,  but dragging your wedding dress, favors and all the guests overseas can be pricey for brides and grooms on a budget.  However, many domestic destinations right here within the continental U.S. can offer the same breath-taking scenery, diverse settings and luxurious amenities you would expect to find - and pay more for - if you go abroad.
What kind of domestic destination should you seek? Here are a few popular, cost-effective options that don't require a long trip for your guests or you to spend a lot of money:
Beauty at the beach
When it comes to versatility in a natural setting, it's hard to beat the beauty of the beach.
A beach wedding can capture the romance of the sea, evoke the party atmosphere of an island escape, and tap the depth and power of Mother Nature in all her glory.
With miles of beautiful beaches on both coasts, the good old U.S. of A. offers plenty of locales for your beach wedding. On the East Coast, Myrtle Beach, S.C. is a popular spot that offers a wide range of versatile venues and accommodating lodging for you and your guests. The region is a reasonable drive from just about anywhere along the eastern seaboard. Plus, you can find affordable direct flights to the nearby Myrtle Beach International Airport.
For a pure beach wedding, check out Myrtle Beach State Park, which offers pristine white beaches and breathtaking views of the Atlantic Ocean. Or, to marry the beauty of the beach with elegant style, check out Atalaya Castle at Huntington Beach State Park in nearby Murrells Inlet, S.C.
Keep in mind if you're holding your wedding on a public beach or park, you'll likely need to obtain permits from the appropriate city or county agency.
The charm of the Old South
She might have had trouble staying happily married, but "Gone with the Wind" heroine Scarlett O'Hara sure knew how to throw a romantic wedding. You can recapture the grace, elegance and romance of Scarlett's bygone era with a plantation destination wedding. Throughout the south, you'll find representations of the gracious architecture that personified the classic southern plantation, with grand staircases, sweeping front porches and sprawling green gardens.
You can build an entire wedding theme around the locale, with attire that evokes the elegance of the Old South and southern colors like peach and lavender. A simple online search will yield numerous plantation-style venues, like Litchfield Plantation and Pawley's Plantation, both in Pawley's Island, S.C., or Brookgreen Gardens in Murrells Inlet, S.C.
To the sea, to the sea
If you relish in the beauty of the sea but not the idea of the sand that comes with it, holding your wedding at an oceanfront hotel may be the perfect way to enjoy the beauty and majesty of the beach.  Many oceanfront hotels and resorts offer event venues with great views of the beach and ocean.
Plan to hold your wedding in one of Myrtle Beach's many oceanfront hotels, and you can savor the benefits of a beach destination with all the comforts, conveniences and luxuries of top hotels. These resorts cater to brides with comprehensive wedding packages, creative menus and breathtaking views.
By looking for a domestic destination, you can.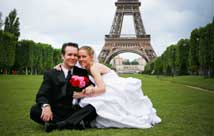 | | | |
| --- | --- | --- |
| | | Respond Weddings Directory lists the top Wedding Planners in your area, organized by specialty and office location. |